EXHIBITIONS I:
group show with stephan gill, will steacy, beat streuli, michael wolf and sascha weidner at christophe guye gallery, zurich, switzerland
03.12.2014–21.02.2015
www.christopheguye.com
»the presence of absence«
solo show at galerie conrads, düsseldorf, germany
07.11.-21.12.2014
www.galerieconrads.de
»entrepreneur 4.0«
winner show at wittenstein ag, igersheim, germany
may 2014–feb 2015
www.entrepreneur4point0.com
»hängung #12 weltenträumen
group show at sammlung klein, nußdorf, germany
27.06.-21.12.2014
sammlung-klein.de
»do not alight here«
solo show at pavlov's dog, berlin, germany
30.04.–25.05.2014
www.pavlovsdog.org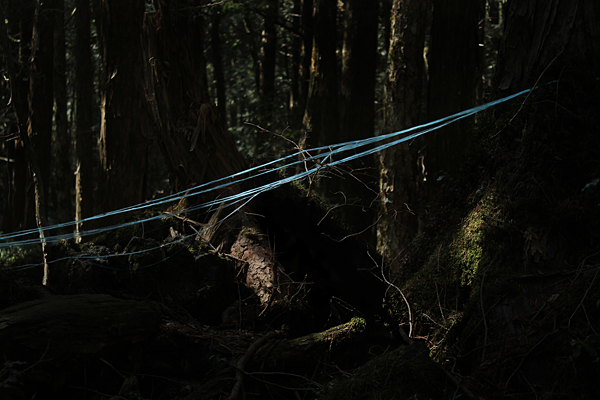 News:
06/2014

For two months, Sascha Weidner was artist-in-residency at Three Shadows Photography Art Centre in Beijing, China.

01/2014

sascha weidner has been named as the inaugural winner of the entrepreneur 4.0 award. the jury cited the following reasons for its decision: »sascha weidner's images bear witness to working without a safety net and demonstrate a great willingness to take risks in his personal quest for pictures – and in such a competition it is artistic autonomy that should be rewarded. to continually permit oneself a fresh view of the reality that one encounters, therein lies the extraordinary quality of the oeuvre and a testament to its unique poetological power«

jury members: oliviero toscani, photographer and chairman, manuela kasper-claridge, head of dw-tv's business department, maren lübbke-tidow, editor-in-chief of camera austria international, felix hoffmann, chief curator of c/o berlin and professor eckard minx, chairman of the daimler and benz foundation.

press release

10/2013

sascha weidner was finalist of the otto-steinert-preis 2013. the honorable mention was given to sascha weidner by the jury for his courageous and sensitive photographic work about the japanese suicide forest aokigahara. jury members: Axel Hoedt, Florian Ebner, Leiter der Photographischen Sammlung in Essen, Bernd Rodrian, Inga Schneider and Heide Häusler.

04/2013

for 3 months, sascha weidner was artist-in-residency of the goethe institut at villa kamogawa in kyoto, japan.
out now:
sascha weidner / no. 1—5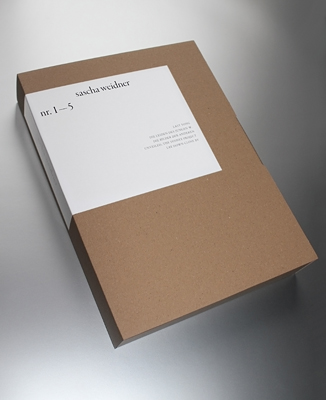 5 catalogues (Last Song / The Sorrows Of Young W. / The Pictures Of Others / Unveiled / Lay Down Close By) and various inserts — each in an edition of 1.000 copies — were published on the occasion of exhibitions at C/O Berlin, Goethe Institut Prague, Gallery Conrads, FO.KU.S Innsbruck and the Australian Centre for Photography in Sydney. With essays by Stephan Berg (Kunstmuseum Bonn), Dr. Alix Landgrebe, Tony Nolan (Australian Centre for Photography), Mirko Nowak (C/O Berlin), Franziska Schmidt (Villa Grisebach) and Sascha Weidner.
exhibitions:
now:
»die leiden des jungen w. / the sorrows of young w.«
goethe institut prague, czech republic
until may 2015
curated by stephan berg, kunstmuseum bonn
»die bilder der anderen / the pictures of others«
goethe institut prague, czech republic
until may 2015
curated by stephan berg, kunstmuseum bonn
»a part of it«
solo show at vgh galerie, hannover, germany
18.08.–31.10.2013
www.vgh.de
»shooting animals«
solo show at vertretung des landes niedersachsen beim bund, berlin, germany
08.10.–16.10.2013
»murakami & weidner«
group show at a.p.p. gallery, kyoto, japan
03.04.–21.04.2013
»heute kein plenum / 20 jahre klasse doerte eißfeldt«
group show at 267 quartiere für zeitgenössische kunst & fotografie, braunschweig, germany
23.05.–11.08.2013
curated by andreas bee & hubertus von amelunxen with jan paul evers, andrea geyer, samuel henne, ingo mittelstaedt, florian wüst, sascha weidner et al.
»the youth code«
group show at christophe guye galerie, zurich, switzerland
07.06.–24.08.2013
www.christopheguye.com
curated by nathalie herschdorfer with anoush abrar, jun ahn, mike brodie, denis darzacq, lucas foglia, bill henson, ina jang, margo ovcharenko, guillaume simoneau, sascha weidner
»sascha weidner / selected works«
solo show at circuito aperto, centro culturale altinate san gaeta, padova, italy
07.06.–24.08.2013
curated by prof. maria beatrice rigobello autizi
padovacultura.padovanet.it
»welt, reisen, selbst, suche«
group show at galerie altes rathaus musberg, germany
27.04.–12.05.2013
organised by deutsche fotografische akademie
»it's a magic world – märchen und mythen in der zeitgenössischen kunst«
group show at zeithaus / autostadt, wolfsburg, germany
10.04.–20.05.2012
with heike baranowsky, katharina mössinger, jenny rosemeyer, yehudit sasportas, wolfgang tillmans, sascha weidner
»lay down close by«
solo show at galerie conrads, düsseldorf, germany
12.05.–16.06.2012
»unveiled – the sydney project«
solo show at australian centre for photography (acp), sydney, australia
03.03.–15.04.2012
installation / outside:
installation / inside, daytime:
details:
installation / inside, nighttime:
»hijacked 2«
group show at zephyr, mannheim, germany
20.05.–26.08.2012
with lee grant, derek henderson, albrecht fuchs, karsten kronas, oliver sieber, olaf unverzart, sascha weidner, et al.
»dark sights«
group show at dz bank kunstsammlung, frankfurt am main, germany
27.01.–31.03.2012
with oliver boberg, angus boulton, gerard byrne, gregory crewdson, lucinda devlin, philip-lorca dicorcia, andreas gefeller, paul graham, naoya hatakeyama, bill henson, robert longo, thomas ruff, sascha weidner, and tobias zielony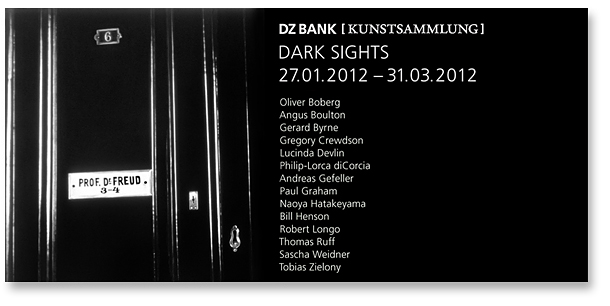 Old news:
11/2011

the top-class second jury members, petra von olschowski, ulrike flaig, werner meyer of the »stiftungspreis für fotokunst« awarded the prestigious prize for 2011 to the german artist sascha weidner, who was born in osnabrück and now lives and works in belm and berlin.

with a sum of € 10,000 for the winner, this is one of the most generous awards for contemporary photography. this year's conferral marked the third time that this prize was awarded. the first jury consisting of 9 curators had nominated 36 contestants as candidates for the prize.

the artwork of the winner sascha weidner and the 7 finalists will go on display in a joint exhibition on november 21, 2011 in the museum kunstwerk/collection of alison and peter w. klein in nussdorf (near stuttgart).
Past exhibitions:
»(selbst)-portraits / abbilder & netzwerke«
group show at schwules museum, berlin, germany
06.10.2011–16.01.2012
with marc brandenburg, boris von brauchitsch, esther haase, jan-holger mauss, mark morrisroe, bernhard prinz, ingo taubhorn, sascha weidner, et al.
»fame«
group show at dz bank kunstsammlung, frankfurt am main, germany
22.09.–27.11.2011
with joseph beuys, kevin clarke, chuck close, anton corbijn, gisèle freund, gottfried helnwein, barbara klemm, will mcbride, angelika platen, richard prince, wilhelm w. reinke, ulrike rosenbach, dennis stock, wolfgang tillmans, piotr uklański, andy warhol, sascha weidner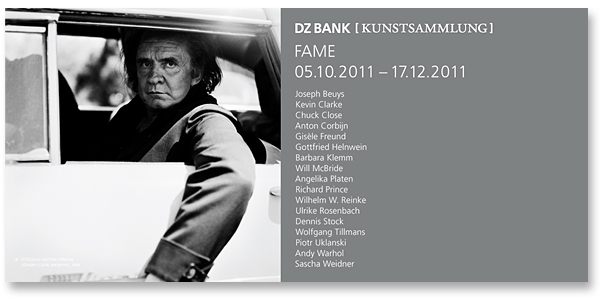 »sascha weidner / revolve«
solo show at galeria toni tàpies, barcelona, spain
22.09.–27.11.2011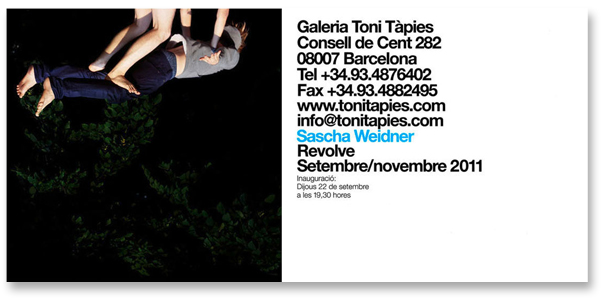 ground floor:
from outside:
1st floor:
»salon salder 2011 / neue kunst aus niedersachsen«
group show at schloss salder, salzgitter, germany
11.09.–06.11.2011
»tape modern curator's choice / tape modern no.23«
group show at tape, berlin, germany
09.09.–29.10.2011
»seit morgen / since tomorrow / depuis demain«
solo show at C/O Berlin, Germany
06.05.–26.06.2011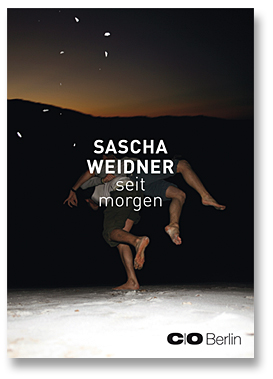 outside @ c/o berlin: »last song«, installation (my car, 18 songs)
inside @ c/o berlin: seit morgen / since tomorrow
»traummänner – starfotografen zeigen ihre vision vom ideal«
deichtorhallen, hamburg, germany
11.03.-22.05.2011
installation shots © henning rogge
New:
»HIJACKED 2

– Australian and German Photography«

edited by mark mcpherson, ute noll, markus schaden, 2010
isbn 978-3-86828-126-2

catalogue, 288 pages, 255 color and b/w images, 25,5cm × 28,5cm, feat. lee grant, derek henderson, jörg brüggemann, albrecht fuchs, karsten kronas, oliver sieber, olaf unverzart, sascha weidner, etc.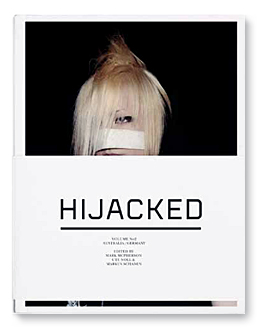 »Was übrig bleibt / What remains«
ISBN 978-3-941737-15-0
Exhibition catalogue, 96 pages, 1062 images, 21cm × 29cm, more than 450 statements by the visitors, installation photographs by Uwe Brodmann, essay by Florian Ebner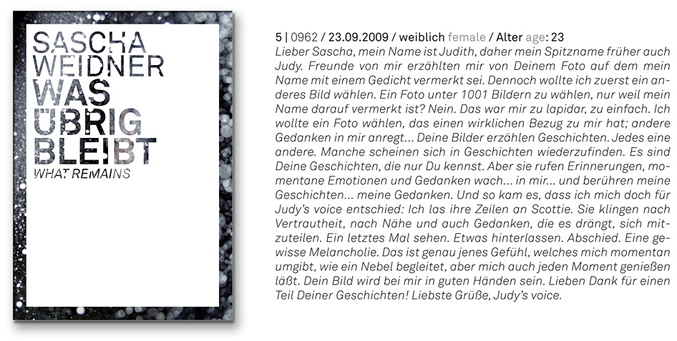 »Traummänner

– Starfotografen zeigen ihre Vision vom Ideal«

edited by nadine barth & ingo taubhorn, 2011
isbn 978-3-8321-9362-1

catalogue, 244 pages, 87 color and 67 b/w images, 31cm × 24cm, feat. albert watson, alec soth, bruce weber, bryan adams, ellen von unwerth, mark seliger, michelangelo di battista, nadav kander, peter lindbergh, rankin, sascha weidner, etc.
»Future Images«
Edited by Mario Cresci, 2010
ISBN 978-8-864130-17-0
Catalogue, 312 pages, 455 images, 25,5cm × 28,5cm, feat. Thomas Allen, Richard Billingham, Candice Breitz, Wim Delvoye, Olafur Eliasson, Sascha Weidner, etc.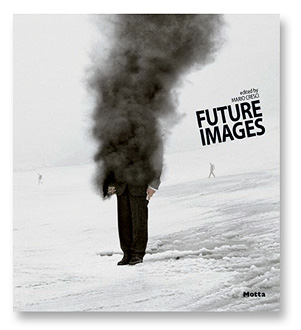 Recent exhibitions:
»hijacked 2«
the australian centre for photography, sydney, australia
»Young Collectors #2« at Sign
Group show with Michaël Aerts, Stephan Balleux, Norbert Bisky, Veronica Brovall, Anneke Eussen, Jana Gunstheimer, Kati Heck, Adam Leech, Leopold Rabus, Joris van de Moortel, Leon Vranken and Sascha Weidner
www.youngcollectors.nl, www.sign2.nl
»Was übrig bleibt / What remains«
solo show at Museum für Photographie, Braunschweig, Germany
18.09.–01.11.2009
photomuseum.de
archive 1 / 17.09.2009

archive 1 / 26.09.2009

archive 1 / 02.11.2009

archive 2 / 17.09.2009

archive 2 / 26.09.2009

archive 2 / 01.11.2009
»enthusiasmus & leichtigkeit / ease and eagerness«
Group show at Kunstmuseum Wolfsburg, Wolfsburg, Germany
With Duncan Campell, Marcel van Eeden, Friederike Feldmann, Sabine Honig, Julian Rosefeldt, Tatiana Trouvé
»am wasser gebaut«
Solo show at Zephyr / Reiss-Engelhorn-Museen, Mannheim, Germany
rem-mannheim.de, zephyr-mannheim.de
»15 Years of Collecting / Against the Grain«
Group show at Kunstmuseum Wolfsburg, Germany
16.05.–13.09.2009
www.kunstmuseum-wolfsburg.de
»to be handled carefully«
solo show at Galerie zur Stockeregg, Zurich, Switzerland